Ignite
Jump to navigation
Jump to search
About Ignite
Ignite is a fantasy roguelike game currently in development by Alex Bardanov. The development goal is to make an interesting game with high replay-ability and randomness.
I will be very glad if you post your comments or any bugs that you encountered at my blog. Have fun!
Current version - 0.41 from 15 April 2012
Video
A couple of videos can be found at my youtube channel here (roguebasin does not allow post videos).
Screenshot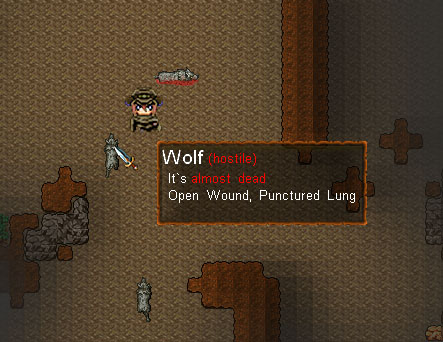 Features
Highly random world
Resources gathering and item crafting system
Building construction from gathered materials
14 items to craft
Advanced combat system with body parts and critical wounds
Additional Information
This is prealpha build so you can expect that you will encounter some bugs. Do not travel to the end of the map! Press <TAB> to enter inventory Press <ESC> to terminate application
Links

 ; mirror http://dl.dropbox.com/u/31655535/Ignite_pa041.rar
Requirements